Here we are again; that time of year where I get to sit back and look at the books I've read so far and chat about the ones I've loved the most. Grab some cake and settle in.
THE BEST BOOK OF THE YEAR SO FAR
I hate this question, I am so bad at picking my favourite anything. It was easier last year because there was a stand out fave, but this year it's so tricky. I've already given 9 books 5 stars this year. I think, because it's the one that springs to mind instantly every time I think 'fave of 2020', I'm going to go with An American Marriage by Tayari Jones which tells the story of Celestial and Roy and what their lives look like before, and after he is wrongly imprisoned. It's incredible and I wanted to both tear through it and savour it and I already really want to read it again. So so good. It's one of those books where the story utterly absorbs you, and it's one of those books that makes you think. I was so so invested in Roy and Celestial's lives, and it's really stayed with me.
BEST SEQUEL OF THE YEAR SO FAR
Tuesday's Gone which is the second in Nicci French's 'Frieda Klein' series. I am so so taken with this series so far; both this and the first book were stand out for me. I love a well written crime novel and I loved how this was a complete story in and of itself but also had plenty of references back to book one. Can't wait to get stuck into book 3. Frieda is a psychotherapist who works alongside the police and so aswell as just a really good thriller (which I love) you get an excellent police procedural (which I also love) and crime solving from somebody not in the police force (here for all the psychotherapist / forensic pathologist / anybody who solves crimes but isn't a detective stories).
NEW RELEASE YOU HAVEN'T READ YET BUT WANT TO
I have The Vanishing Half which was published in June sitting in my TBR cart and I am so excited to get to it because I'm seeing it everywhere and hearing all the good things. About twin sisters who grew up together in a small, southern black community but whose lives ended up going in entirely different directions it sounds incredible, and has had such good reviews. I'm making a concentrated effort to read more by Black authors, and this sounds like its going to be so many of the things I love. I can't wait to read it. Alas, I fear it may not be until September...
MOST ANTICIPATED RELEASE FOR AUTUMN / WINTER
Again, I always find this one so so hard because there are so many. There are a handful I could choose that are already much hyped and that are obvious choices but I'm actually really excited about the sequel to Before the Coffee Gets Cold which is out in September. I loved the first book, and this has the same concept I think, set in the same time travelling cafe and I cannot wait to get lost in it.
BIGGEST DISAPPOINTMENT OF THE YEAR SO FAR
The Cactus
, defo. I had all the high hopes for it, but ended up just really not liking it. I almost DNF'd. It just...it didn't hit the spot for me. I found the main character to be brash and awful and the way she had a magical personality makeover once she had a man and a baby grated on me and this, for me, was certainly no Eleanor Oliphant.
BIGGEST SURPRISE OF THE YEAR SO FAR
Oh. I think definitely Daughter of Smoke and Bone. I absolutely was not expecting to be as captivated as I was. I'd put it off for ages because it's one of those bookstagram books that was sure was going to be over-hyped but I actually really loved it. I loved the Prague setting - as if I didn't already want visit Prague badly enough - I loved the world building and the magic and the whole concept. It was fantastic.
I mean I've only read one of her books but can I have all of Joshilyn Jackson's back catalogue please? Gods in Alabama, blew me away; it was such a good read and I am so excited to discover what else she has to offer.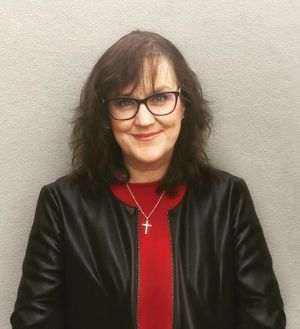 YOUR NEWEST FAVOURITE CHARACTER
I admit in this safe space to a small crush on Gus from Beach Read by Emily Henry. I actually really loved this book in general; it's such a fun, easy read and Gus is just so grumpy and adorable.
The Light in Hidden Places, I'm looking at you. This true story of a Polish girl in WWII hiding Jews in her attic whilst Nazis took over the spare room made me feel all of the things. I want to push this book on everybody I know because it is so so excellent.
A BOOK THAT MADE YOU HAPPY
I really loved Spinning Silver by Naomi Novik - it ticked so many boxes for me and really filled my fairytale loving heart with gladness. It's a loose Rumplestiltskin retelling (YES PLEASE) and has all these feisty female characters and the world building is just so good and it's so atmospheric and I adored it.
MOST BEAUTIFUL BOOK SO FAR
I'm going to go beautiful cover this time around and say, without a doubt, Black Flamingo. I would put that cover on my wall. It's pretty beautiful on the inside too - about Michael, a black, gay boy and his journey to self discovery through drag. It's told in verse and it is lovely.