Quickfire Reviews is a thing I do very sporadically when there are books to talk about that I should have reviewed but haven't. Sometimes I didn't like these books enough to want to review them; sometimes I loved them but time got away from me; and sometimes, less is just more. I'm trying to do it semi-regularly as a feature but please don't hold your breath for the next one because I am rubbish.
What's it About?
Party girl Lexi accidentally overdoses and finds herself in a fancy rehab facility…
What I liked
There's a meet cute and a slow burn love story which I liked, and I think it's really important to have YA books that deal with things like drugs, sex, gender and sexuality, family dynamics, all that stuff that's going on in the every day, and
Clean
does deal with all of those things. It's brilliantly diverse and it's also a really interesting look at how a party girl who seems like she has it all can still end up at rock bottom. It's got an addictive style (pun intended) and I flew through it.
What I liked Less
It felt a little bit try-to-hard to be honest, and Lexi
really
bugged me – also I'm not sure I found her to be all that relatable. I also found the ending to be a little bit rushed and I felt like the whole thing could have gone deeper than it did.
I think Melvin Burgess's
Junk
is a million times better, honestly.
What's it About?
Simon's gay, but he's not out and he's kind of seeing this guy he's met online – but not in real life, yet – and then his emails fall into the wrong hands and he finds himself being blackmailed by another kid at school and it all looks like going to shit.
What I liked
Honestly, I was so here for this book; I can't believe it took me so long to read because it ticks so many of my boxes when it comes to YA fiction. I love Simon and Blue's slowly developing relationship; I love Simon and his close knit group of friends; I love his family; I love the way the whole thing with blackmailer Martin pans out and how messed up that is and how everything is dealt with in a very teenage way. I kind of really loved it. It's really cute. I smile a little bit when I think about it.
What I liked Less
I would have liked a little bit more character development maybe? Because sometimes it did sort of coast along a little and that was fine because I was caught up in the story but then afterwards I was left feeling a little bit like I wished I gotten to know these kids better. Especially Leah. & I know this is
me
saying this, but sometimes in books it bugs me when there's a million and one HP references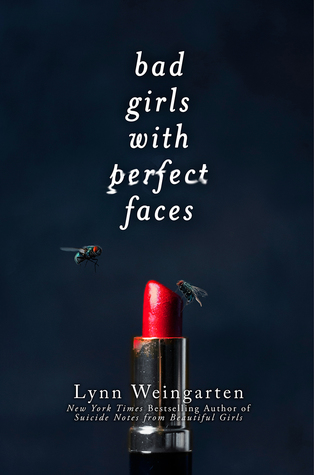 What's it About?
Sasha kind of maybe has feelings for her best friend Xavier, also, she really hates the way he ex – Ivy – broke his heart so when Ivy and Xavier got back together she poses as a boy online to prove to Xavier that Ivy's no good. Except it all goes wrong.
What I liked
Such an interesting concept this one, and a really important look at what manipulation can look like in a relationship and how you can love somebody toxic and the blurred lines between right and wrong – although they're not
that
blurry really, but you know what I mean -
and it was super twisty and turny and I liked it in the same way I liked
Suicide Notes from Beautiful Girls.
Plus, it's always nice to read something a little different. It's a fascinating compulsive read and it's one that I flew through.
What I liked Less
It wasn't long enough and that's not just me being greedy; it wasn't long enough and that meant that it felt rushed and there were things we needed to see that didn't and gaps and things that didn't make sense – it would have benefited from being a little more fleshed out. & it didn't
really
get going til maybe halfway through.
What's it About?
It's a psychological thriller – Claire's a struggling actress without a green card who gets offered a job by the FBI. They need to get close to a suspected serial killer.
What I liked
I proper love me a thriller and this one is good. The premise is excellent and the whole thing is dark and twisty and turny and everything I love in a thriller. A couple of times I thought I had the whole thing figured out, only to realise I was wrong and I LOVE THAT.
Also WHO DO YOU TRUST? I liked that also, and it's pretty tight and also pretty cleverly written.
What I liked Less
Could it have
been
anymore implausible? The police – or the FBI, you're never quite sure – use a girl who only has acting school levels of experience really to BAIT A POTENTIAL SERIAL KILLER? No. It just bugged me the whole way through because…because no. Also the timeline could have been clearer and the ending was rushed.
What's it About?
Three women, at different places in their lives, living entirely different lives and trying to keep their shit together, basically.
What I liked
I follow Dawn O'Porter on Instagram where she is excellent value and so was super excited to read this because my expectations, they were high. IT was the prefect holiday read, actually, and I tore through it; it's really addictive. It's funny and insightful and there's something I think in each of the women in each of us and it covers a wide range of topics that really need all the air time they can get, topics that affect women and that we shy away
from talking about. O'Porter does not shy away and I love this book for how bold it is.
What I liked Less
It's so far fetched in places SO FAR FETCHED and I wasn't a fan of a lot of the dialogue – people do not talk like that, not in my experience anyhow – and there were too many instances where I was thinking 'that would not happen' for me to get fully immersed in the story. There were certain aspects that made me really angry too which I won't mention because SPOILERY. This book, actually, is
bizarre
and overall I was really disappointed