I am totally in a reading slump guys and it sucks. Mostly it's because I am currently a little bit stressed which means my concentration is shot to pieces so I'm pretty much just collapsing onto my sofa and watching stuff on tv that I don't have to think about, like Brothers and Sisters which I think I've watched 5 times through already. I don't even care that I practically know it off by heart – I just love those Walkers so hard.
Anyhow, a reading slump is what I am in and I hate it. I hate not being in the right headspace to pick up a book because reading is my
thing
and I'm just reals sad about the whole situation. It's also bugging me because I have done such good blogging this year and that's tapered off because
reading slump
and so basically I'm lining up a few posts that don't actually need me to read anything because I NEED TO KEEP THIS THING MOVING. So you know, there might be a couple of posts that are less bookish and more life-ish
(#notaword) – also please keep your fingers crossed that this is just a temporary glitch because I think my TBR might kill me otherwise. Gulp.
So, because I am a magpie and because I spend too much time on Instagram and because browsing the internet for things I would like to own is pretty mindless it felt like it made sense to do another Things That I Have Seen and Liked so this is what this is. Grab a coffee and look at all these lovely bookish delights.
All the
Ink and Wonder
bookmarks. You can never have too many bookmarks am I right? I think I am right. Or perhaps this is just a thing I tell myself. My fave is one that I got from My Little Best Pal; they were colour your own bookmarks and I coloured one and she coloured one and then we swapped because we're cuter than you. Anyhow. Ink and Wonder – these are lush; I actually have a couple already but like I said: you can never have too many bookmarks. I am especially fond of these:
Speaking of bookmarks,
these book darts
are super nifty for sure. The very idea of being able to go right back to the line where you stopped reading. I LOVE that.
This Lizzie and Darcy ring from
S
onnet and Fable
is all kinds of wonderful. I am a fan of rings; I don't know if I can carry them off exactly because my fingers are short and quite dumpy but whatever, I love them and I love this. LOVE IT.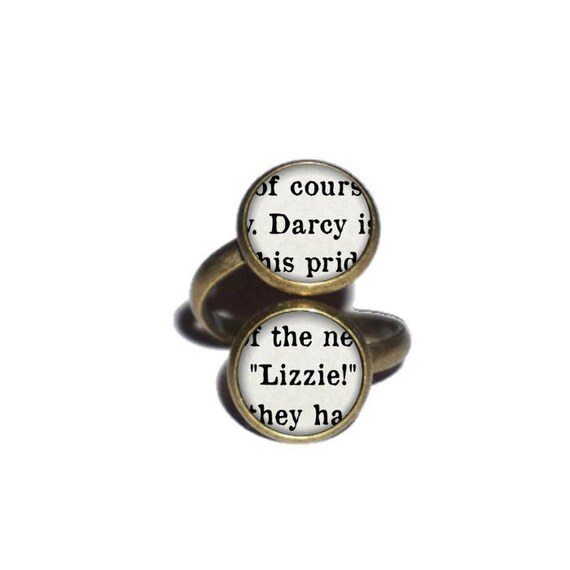 And last but by no means least and just because 5 is a nice number, if you know me, then you'll know I usually wear odd socks so these
banned book socks
from
Out of Print
tick all my boxes.

In the words of Freddie Mercury, I WANT IT ALL.