September already though.
Holy and also Moly, goodness and also gracious. LET'S DO A WRAP UP. Let's do a wrap up, mostly because August was a fun fun month and I had a nice nice time and I want to get that written down for posterity so that in one hundred years where some future person from the future stumbles across this blog they can say 'wow she had a really nice time in August 2017.'
That and the fact that when I have lots of talking to do it makes sense to put it all in one post. Lazy blogging is lazy but whatever.
So, what did I read?
A Darker Shade of Magic by VE Shwab which I loved. It's the first in a series and it's fits right in with the kind of books I seem to be loving right now. It's about this guy called Kell (who I might be in love with a little bit) who is one of the last magicians alive with the ability to move from London to London to London because there isn't just 1 London. There's 4. (I know, right) – he's like an Ambassador between Red, White and Grey London (black London isn't around anymore) so he's pretty important but he's also a smuggler. Which is frowned upon, obvs. & there are shenanigans so he ends up on the run and he meets this girl called Delilah – a cross dressing thief who I also love - and there is lots of magic and a whole host of excellent characters and so much angst and perfect perfect worldbuilding which is always such a thing for me in these kinds of books and basically I just liked it a whole lot and I cannot wait to read book two – which is a little bit of a lie actually because I have book two so technically I could have read it already except that I have a bad case of book procrastination and a massive to do pile.
AND THEN I READ FRANKLIN'S FLYING BOOKSHOP which totally gets a post of its very own COME BACK TOMORROW MY LOVELIES.
I read
Let Het Go
by Dawn Barker which is a sibling story. One sister who can't get pregnant and another who agrees to be her surrogate and it's a pretty fascinating look at family: what it means to be a parent and what it means to be a sister. It's twisty and it's pretty heavy going at times, because this is a subject matter that is so not at all hearts and flowers, but it also felt genuine. I liked it. I chatted to Dawn about it last week, so
check that out i
f you're interested in a little bit more insight…
Reservoir 13 from Jon McGregor and I would read his shopping list I swear. He's the most beautiful writer and you feel like he doesn't waste a single word, you know? Like every syllable has been carefully considered and placed for maximum impact. His books are often about the ordinary but he makes it into something extraordinary and he sees things. He writes about normal people and every day experiences and he makes them into things that you feel down to to your very bones. Oh God, I don't even know what I'm trying to say and I do not at all want to come across like I'm fawning over him even though actually I totally probably am. Shit.
So Reservoir 13 is about loss, about a girl on holiday that goes missing and about how that loss impacts not just her family but everybody, the people in the village that she didn't even know because when something like that happens life changes at the same time as it stays somehow exactly the same. It isn't a novel about a terrible crime; it's a novel about people and it's just classic Jon McGregor, beautiful and moving and understated ad I absolutely loved it.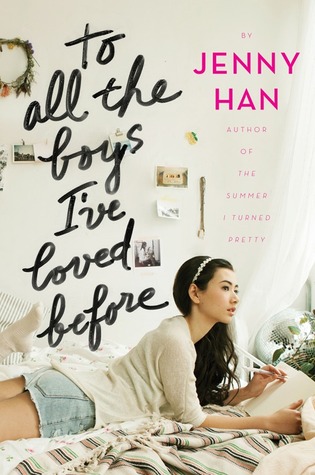 Jenny Han's To All the Boy's I've Loved Before because this series is all over the internet and I wanted in and you know what I think I might be a bit of a book snob because I'm often a little wary of contemporaries like this but you know what, I need to shut up because I totally get why these books – or at least the first one – are getting the hype they are. It's good. Lara Jean keeps love letters in a hatbox, love letters to (you guessed it) all the boys she's loved before. And then the letters get posted and oh my god the horror. & I won't lie, it's predictable his book and it ticks all the boxes I expected it to tick, it is exactly exactly what I thought it would be but who cares: it's fun and it's cute and I found myself a little bit invested and I finished it and went straight out to buy book two so….
AND THEN LAST BUT NEVER LEAST I STARTED THE BEGINNING OF THE WORLD IN THE MIDDLE OF THE NIGHT WHICH IS JEN CAMPBELL'S SHORT STORY COLLECTION AND WHICH I LOVED SO MUCH I CANNOT EVEN EXPRESS IN THIS BRIEF WRAP UP AND WHICH I WILL BE CALMLY AND SENSIBLY REVIEWING VERY SOON ONCE I HAVE COLLECTED MY THOUGHTS AND AM ABLE TO NOT CAPSLOCK ABOUT IT BUT KNOW THAT THIS BOOK IS GOING TO BLOW YOUR GORGEOUS LITTLE MINDS. ASDFGHJKL KEYSMASH.
What have I been listening to?
George Ezra. Again. Because I love that album so much.
What have I been watching?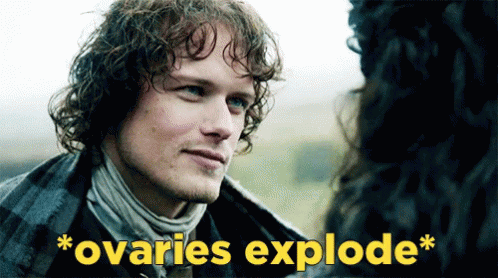 Outlander. I have been watching Outlander. My friend Natalie who is my binge watching buddy was telling me to for ages and I've seen it on the internets mistly because youd have to be living under a rock to not have seen all the hype about Outlander on the internet and people seem pretty divided actually between JAMIE FRASER IS THE BEST THING EVER and THIS IS SO PROBLEMATIC and also did you know that Diana Gabaldon wrote the first Outlander novel in 2005 and is still going. Talk about epic. Anyway, I can totally see why a lot of people see it as problematic. I am in no way blind to the issues people might have with things that happen here and also there are things that really bugged me (Claire was a nurse in WWII how does she know every last thing about every last treatment for ever last thing in the 1700's for stsrters) but I also love Jamie and I got totally sucked in and I have a new found appreciation of the kilt and I want somebody to call me Sassenach and I can't wait for the new series so you know, call it what you will: for me Outlander is escapism at its very best and I want more of it. So much more.
I also watched Handmaid's and am working on a blog post about that which I'll try to get up in the next week or so.
What have I been doing?
Travelling, baby.
Seriously. I've hardly been at home.
I've been to France and Monaco and Italy. I've almost melted in an epic European heatwave, I've drunk demi-peche and eaten pasta and tartiflette. I've been on train rides and walked miles along the seafront. I've googled the prices of super yachts and imagined another life where we'd charter one and I've got slightly tipsy at little back street restaurants with tables on the cobbles and washing hanging out of the windows above me. I've driven through mountain passes with the car roof down and I've laughed and laughed and laughed and marvelled at what it is to be 34 and in love. I've been on a road trip to Scotland (complete with a flask of coffee and corned beef sandwiches, obviously) to watch my pal get married (she's totally a Sassenach and I doubt she even knows it)
I've had the best month ever.
I've been to parties and had nights out and nights in. I've eaten Thai food, because when is there a month when I don't eat Thai food, actually, and I've spent time with almost all of my friends and it's been lush. So lush. August 2017 has been my favourite.
TELL ME ABOUT YOUR AUGUST PLEASE.