I am

so annoyed

that this wouldn't post yesterday because seriously, what is the point of a Top Ten Tuesday on a

Wednesday

. Le sigh. Sometimes the internet is my enemy. Anyway, the prompt was awesome: Top Ten Childhood Books You'd Like To Revisit so a day late or not I wanted to share it. (Top Ten Tuesday lives over at The Broke and the Bookish if you want to check them out.)
I think I did some of my best reading when I was small(er) – I'm still small, I got older not bigger – and I have so very many memories of excellent books that are as precious to me as good friends. Like, for example,

The Owl Who Was Afraid of the Dark

which I recently bought for Lydia or the Enid Blyton

Adventure

series that made me want to live a life other than the one I was living. My formative years were full of books: books that I chose for myself and books that my parents chose for me and books that my Granny handed to me with a smile and a 'I think you'll like this one'; books I read alone and books I read at school and books like

Superfudge

that my dad read to me at bedtime; books I read when I was 7 and books I read when I was 12 and books I read when I was 16.
I was a bit like Matilda when I was a child, with my 'grown up' library card that my Mum had to sign a form for me to be allowed to have and the seven books in my backpack every Saturday and the lady in the bookshop in town that knew my name and would let me spend a couple of hours trying to decide how to spend my book tokens – man, I really

miss

book tokens.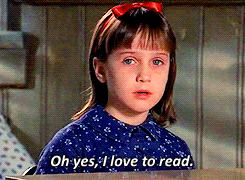 I was a bookworm then. I'm a bookworm now. These are the ten books that I think probably made me the reader I am today. Ten out of about ten million.
Pongwiffy

was the book I chose when I won The Book Prize at school in 1990. I was seven, and winning The Book Prize was The Biggest Deal – there was one winner in the infants and one winner in the juniors every year so I was kind of a mixture of proud (yay me) and embarrassed (because even then I hated being in the limelight.) My copy – which still lives on my bookshelf -

is all purple and pretty and has a little certificate stuck to the first pages saying that seven year old me is awesome. I loved that Witch of Dirty Habits so hard.

The Family from One End Street

is another of those books that my Granny gave me - one from her chldhood I think; it was published in 1937. I read it over and over and over. And over. I'd love to go back and hang out with the Ruggles.

Pardon Me, You're Stepping On My Eyeball

was a book that made me feel cool. I dunno why, it was a cool story about cool kids that are also misfits and when I read it as a teenager it kind of resonated with me. I have no idea why it's not more widely spoken about. Unless it's actually shit. I should read it again to find out.

The Story of the Treasure Seekers

GIVE CHILDHOOD-ME ALL THE E.NESBIT OMG. Seriously. I loved them all, but I did always have a soft spot for the Bastables

Nancy Drew

which I read because of the

Babysitter's Club

books and which I was a teeny bit obsessed with for a while. I read as many of these as I could get my little grabby hands on.

Jessamy.

this book people. Again, why are more people not aware of this story? Why? I loved it so much, with it's misunderstood main character and it's time travel element. I wanted to name my first child Jessamy after the girl in this book, in fact, thinking about it, maybe I still kind of do.

Junk

I had such an author crush on Melvin Burgess when I was a teenager you don't even know and Junk is such a powerful book. This book should be required reading for every teenager everywhere I swear. It's so damn excellent. & I did revisit it a few years ago actually so I have read it as an adult. The verdict? Still excellent.

The Diddakoi

is the reason I've always harboured a bit of a fantasy about being a traveller, with a beautifully painted caravan and a horse and barefeet. It's also a really powerful story about what it feels like to not quite fit in. I don't even know how many times I read this book. It was a class book when I was about 8, my teacher was called Mrs Pile and she read it aloud to the class a chapter a day and I just

had

to go out and find my own copy. I think it's lost actually this book, lent out and not returned and I'm really sad about that.

My Family and Other Animals

these books are hilarious. SO GOOD.I laughed out loud so many times, so very many times.

Fifteen

was my Mum's favourite book as a teenager and I had to be so careful when I read her copy because it really is hanging on by a thread and it's one of her most treasured possessions I think – she could probably still quote the first chapter from memory.

It's written by Beverly Cleary who wrote the Ramona books which I also adored

I liked it because it made me feel closer to her, even though she's always been right there, I dunno, there's something about feeling like you're getting a snapshot of your parents at your age and that's what this book was for me.
So that's me. Come talk to me, leave me a comment and tell me: have you read any of these? What books from your childhood would

you

like to revisit?